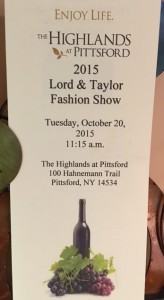 A very big congratulations to the resident Community Outreach Committee members who put on this year's Fashion Show entitled "Wild for Fall". The show, which featured this fall's hot looks of faux fur and metallics, is an annual event held here at The Highlands benefiting the Wilmot Cancer Center. This year's show raised $4,200!
The committee worked extremely hard getting raffle prizes, making favors, and modeling at the show.
Committee Members:
Verna Doeltz
Mary Doino
Ginny Fitch
Audrey Freeborn
Marie Graham
Gerry Johnston
Jean Marritt
Karen Moore
Nancy Robbins
Bette Smith
Thelma Hammerton
Joan Volonte
Thank you to Lord & Taylor for all of the fashions featured in the show. Three Brothers Winery provided beautiful wine for the event. A special thanks to guests Marion Wilmot and Highlands resident Helen Pluta.
Finally, we must recognize Lisa Stephenson, Director of Cultural Programming, for her entertaining and witty commentary as the co-announcer of the show with Director of Sales and Marketing, Ann Julien!