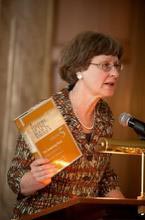 Joan Shelley Rubin, Ph.D.
Dexter Perkins Professor, Department of History
Ani and Mark Gabrellian Director of the Humanities Center University of Rochester
Date: Wednesday, November 6, 2019
Time: 4:00 pm-5:00 pm
In the middle decades of the twentieth century, new inventions such as the radio and the long-playing record combined with older technologies and institutions of print culture to expand the audiences for classical music in the United States. After a brief overview of those developments, this talk will explore a striking example of how classical performances became accessible to ordinary people. The presentation draws on the archive of the press representative for the Lewisohn Stadium Concerts in New York City between 1918 and 1964, to trace the multiple ways in which the media encouraged the public to regard classical music. A discussion following the talk will allow for some reflection on participants' experiences as concert-goers both in the past and today.