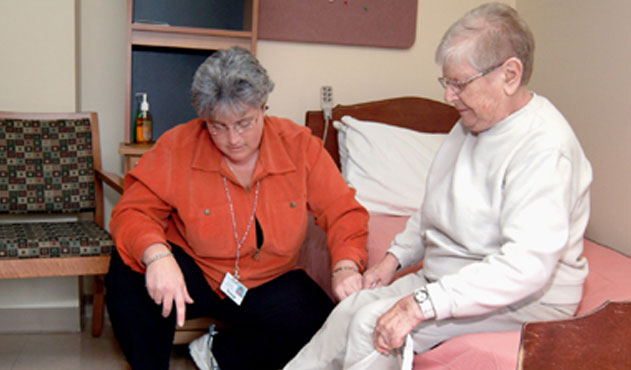 The Living Center, originally built by Highland Hospital, has a team of professionals dedicated to getting you back to your regular routine.  We'll work closely with you and your loved ones to create a customized rehabilitation program that fits your exact needs. We work to provide a seamless continuum of care from your hospital stay to your discharge planning back to the community.
As an affiliate of the University of Rochester Medical Center, our rehabilitation program offers "Medicine of The Highest Order" in a modern and elegant setting. With well-appointed private and semi-private patient rooms and a rehabilitation team with decades of combined experience, we provide the opportunity to regain mobility and return to your home as quickly and safely as possible.  As the only area program of its kind accredited by the Commission on Accreditation of Rehabilitation Facilities (CARF), we provide services that are second to none.
Medical Team
Our team consists of Strong Health Geriatrics physicians who provide 24-hour coverage.  In addition, our full-time nurse practitioner and physician assistant bring peace of mind.  This team works with your hospital team and primary care physician to coordinate and manage your medical needs including:
Pain management
Lab work monitoring
Medication management
Chronic condition management
Physical Therapy Team
Physical therapy is the key to restoring as much mobility as possible.  Our licensed physical therapists work with Patients five to seven days a week.  Therapy sessions include mobility and strengthening exercises as well as stair training.  Prior to your discharge, we will ensure a smooth transition back home.  We will order any equipment you may need and adjust it to fit you and your needs.
Occupational Therapy Team
Occupational therapy is designed to help you regain the ability to accomplish Activities of Daily Living (ADLs) such as dressing, bathing, and going to the bathroom.  We will work to improve your ability to function independently at home and help build upper body strength.  Plus, we'll work to improve your standing, balance, and endurance.  Occupational therapy sessions are conducted five to seven days a week in addition to your physical therapy sessions.
Nursing Team
The Living Center team includes registered and practical nurses, certified nursing assistants (CNAs), and wound care/infection control professionals.  They work together to acquaint you with the rehabilitation process and assist throughout your stay.  They attend to your daily personal care needs (dressing, bathing, toileting) and assist with walking and getting in/out of bed.  Nurses also:
Administer medications, including IV antibiotics
Monitor vital signs (blood pressure, temperature, etc.)
Check lab results
Incision site care
In addition to the extensive care we provide, we very much want your stay to be as enjoyable as possible. We, therefore, offer a number of activities and amenities, including:
Books & magazines
In-room cable TV
Wireless internet connection
DVD movies
Music
Tai Chi classes
Coffee & cappuccino bar
Finally, we welcome your pet for visits while you are here!  Simply register him/her upon your arrival.
If you'd like to set up a tour or provide us information on your surgery date, please call (585) 383-1700.
The Living Center
(585) 383-1700 x 6261