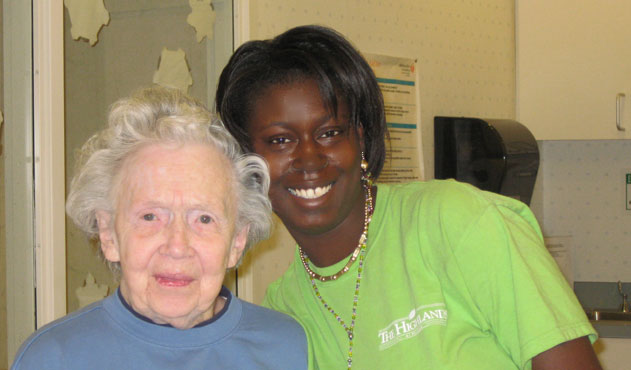 Come with us. We're leading the way back home.
At The Living Center, our approach to memory care comes from a position of deep respect for our Residents with Dementia.  Staff are specially trained to provide these caring, innovative services and take pride in enriching lives.
We are taking a dramatic approach to the look and feel of the environment in our Dementia Neighborhood.  Existing lounges and community areas are now re-envisioned as a neighborhood of familiar spaces that provide real-world experiences and conjure warm feelings in us all.  Each area allows for independent interests to be lived out by Residents addressing needs for purpose and providing genuine moments of pleasure and peace.
The "Florence Klotz" Nursery
Made possible with a donation from The Klotz Family, the Nursery addresses the desire of so many to nurture and love. It provides a homey and comfortable room for giving the special care to "little ones" as well as have purposeful moments, like folding baby clothes or "straightening things up". Peaceful music also enhances the realistic and calming environment.
The Ladies' Boutique
Colorful scarves, elegant hats and sparkling jewelry.  All can be found in The Boutique.  Ladies (and Men if they are inclined) can visit this area and experience again the joy brought with trying on a lovely necklace or chatting with a fellow Resident about which hat looks best.   As with the entire Neighborhood, this area provides experiences that don't have to be lost once a person moves to the Living Center.
The Outdoor Patio
Birds chirping, warm breeze and sunshine are all the things our Residents experience while relaxing on the outdoor screened-in patio. The patio is surrounded by our beautiful gardens and allow our Residents to relish the simple pleasures of being outside.
The Porch Lounge
The outdoor experience is not limited to the summer months. Our Porch Lounge provides the feeling of the outdoor experience indoors.  Special lighting to simulate outside, natural light brightens and dims appropriately with the time of day. The beautiful seasonal sceneries enhance the "outdoor" experience. Our Residents can be brought back to the days of sitting on the front porch, enjoying a glass of lemonade and good company.
Daily Activities
We believe in our Residents' memories and aspire to provide them programming that brings them a sense of pleasure, peace and purpose again. Our programs are designed to reacquaint our Residents with the things they enjoyed doing throughout their lives. Our Residents are able to return to past interests such as painting, flower arranging and community service.  Our small group programs also aim to provide peace and pleasure through gentle stimulation and socialization.
The Living Center
(585) 383-1700 x 6261